A Painter's Perspective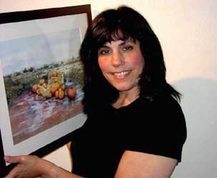 The medium of oil intrigues me.  It allows me to reach the intensity of color and texture I need to create a vibrant painting that glows with light.  I rely mostly on sketches and photographs taken during my travels for the resulting composition.  I then complete the painting using oil on canvas.
My representational style walks the line between realistic and impressionistic painting.  My paintings are the interpretation of a scene that is both illusion and reality.  I strive to keep a painterly effect rather than a photographic one.   I enjoy painting subjects that will connect with people and transport them to a happy place.  It may just be a nostalgic feeling from a childhood memory of a place or a trip where they stayed in a pretty cottage.
I am attracted to the wealth of material that nature provides for the artist.  I also try to incorporate ideas that I get from nature during some of my travels. My paintings of landscapes are impressions of my affection for beautiful scenery.  I try to convey what I feel to those who view my work and that makes it much more personal, and I hope, enjoyable.